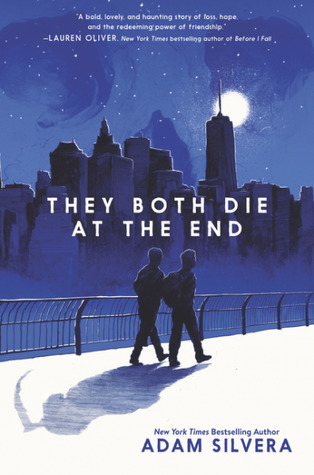 Title: They Both Die at the End
Author: Adam Silvera
Release Date: September 5, 2017
Publisher: HarperTeen
Pages: 384
Source: Edelweiss
Format: eARC
Age Group: Young Adult
Genre: Contemporary/LGBT
On September 5, a little after midnight, Death-Cast calls Mateo Torrez and Rufus Emeterio to give them some bad news: They're going to die today. Mateo and Rufus are total strangers, but, for different reasons, they're both looking to make a new friend on their End Day. The good news: There's an app for that. It's called the Last Friend, and through it, Rufus and Mateo are about to meet up for one last great adventure—to live a lifetime in a single day.

In the tradition of Before I Fall and If I Stay, They Both Die at the End is a tour de force from acclaimed author Adam Silvera, whose debut, More Happy Than Not, the New York Times called "profound."
I have to be careful when picking up an Adam Silvera book and reading in public because this is what will happen...
I don't understand how it happens but when reading a book written by Adam, I am taken to a place where my emotions just flood out of me. I lose myself at the beginning and by the end I find myself all over again. But most importantly, I see myself in the pages, the words, the scenes, everywhere.
Now, what would I do if I had just one day to live? Call my parents and let them know how much I love them, go to a bookstore, go tell the guy I have a crush on how much they mean to me, go live one final day? For Mateo and Rufus that is exactly what they did, among other things.
I knew this was going to be a little bit of a different read for me just after just reading the letter to the reader at the beginning of the book. Adam is one of the most open authors that I have a pleasure of knowing and meeting and every word that is written a piece of soul is placed into it. He writes exquisite scenes with a story that, although is futuristic, is so relatable to our lives now.
Rufus and Mateo are fantastic characters. They have so much going on in their lives and the last thing they need is a call telling them they have 24 hours to live. Finding friendship and much more with the help of an app, the two take you on an adventure where final goodbyes, being somewhat of a risk taker, and finding one last love is the key to living out one final day.
I think the ending is where everything was released and the tears flowed. I wish I could have been there. I wish I could have stopped it all from happening. But what really stuck with me is that in the end, is are we really going to wait for the time we only have twenty four hours to live? Or are we going to go out and enjoy life?
There is no doubt in this world that there will never be a moment of hesitation when picking up a book by Adam Silvera. I do not know if there is even a chance that I will dislike his books. Scratch that. There won't be. if you are looking for a book full of raw emotions then this book is for you. There are not enough words in my vocabulary to tell you how truly marvelous this book is, so you will just have to see for yourself.