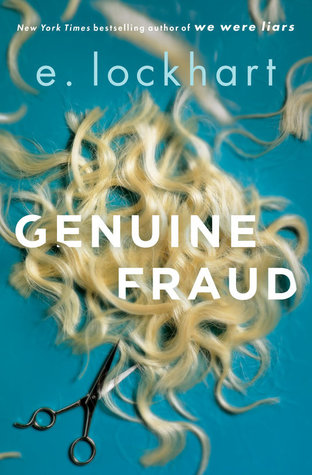 Title: Genuine Fraud
Author: E. Lockhart
Publisher: Delacorte Press
Release Date: September 5th, 2017
Pages: 264
Format: ARC
Source: Publisher - Thank You!
Age Group: Young Adult
Genre: Mystery-Thriller
The story of a young woman whose diabolical smarts are her ticket into a charmed life.
But how many times can someone reinvent themselves? You be the judge.
Imogen is a runaway heiress, an orphan, a cook, and a cheat. Jule is a fighter, a social chameleon, and an athlete. An intense friendship. A disappearance. A murder, or maybe two.
A bad romance, or maybe three.
Blunt objects, disguises, blood, and chocolate. The American dream, superheroes, spies, and villains.
A girl who refuses to give people what they want from her.
A girl who refuses to be the person she once was.
I went into this book completely without knowing much of anything and I'm glad that I did. E. Lockhart carries a unique style and storytelling that I haven't read before and its one that I have previously enjoyed when I read her another of her books, We Were Liars. Forgive my review for being a bit vague, but I want to avoid as many spoilers as possible. I think the story plays out better with little information.

The story bounces around a bit from before and present times. It was fairly easy to keep the storylines separated in what was past and present, but also Lockhart weaved such a brilliant story. She didn't give away anything too soon, and she kept me guessing until the very end.

The characters were hard to get a read on at times, but that's part of the appeal. There is a bit toeing of the line when it comes to whether the characters were unreliable or not. I wasn't always sure what to believe, but it was a part that I did enjoy because it kept me guessing.

Overall this was a solid mystery-thriller. It's a short, fast-paced read that had me wondering what exactly was happening until the very end. If you're looking for something that's mysterious, possibly unreliable at times, and keeps you guessing, then this is a book for you.