Did you guys see the gorgeous cover for Kami Garcia's new book YA romance book? Isn't it gorgeous?!!! I absolutely loved The Lovely Reckless and I can't wait to meet Peyton and Owen!
Here are all the details!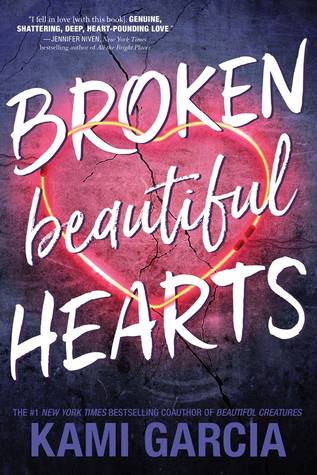 Title: Broken Beautiful Hearts
Author: Kami Garcia
Release Date: February 6, 2018
In this gritty, contemporary romance, an injured star athlete escapes to a small southern town after an abusive relationship leaves her reeling.

Before, Peyton was a star soccer player with the perfect boyfriend, Reed. Now, she has a torn knee ligament, a scholarship on the line, and a shattered sense of self. No one believes Reed pushed her, causing her injury, and Peyton just wants to leave the trauma behind. Living with her uncle and twin cousins in their small, football-obsessed town seems like a great escape plan.

There, Peyton meets Owen—high school classmate and local MMA fighter. Though Owen is charming and gentle, Peyton is determined to repress her growing attraction. But when her old and new life collide, Peyton must reclaim the truth of her past in order to save her future.

With southern charm, underground martial arts, and red-hot chemistry, Kami Garcia's second contemporary romance will steal your breath away.
Kami Garcia is the #1 New York Times, USA Today & international bestselling coauthor of the Beautiful Creatures and Dangerous Creatures novels. BEAUTIFUL CREATURES has been published in 50 countries and translated in 39 languages, and the film Beautiful Creatures released in theaters in 2013, from Warner Brothers. Kami's solo series, The Legion, includes the instant New York Times bestseller UNBREAKABLE, and the sequel UNMARKED, both of which were nominated for Bram Stoker Awards. Her other works include THE X-FILES ORIGINS: AGENT OF CHAOS and the YA contemporary novels THE LOVELY RECKLESS and the forthcoming BROKEN BEAUTIFUL HEARTS (February 2018).

Kami was a teacher for seventeen years before co-authoring her first novel on a dare from seven of her students. If she isn't busy watching Supernatural, Kami can teach you how to escape from a pair of handcuffs or bake a Coca-Cola cake. She lives in Maryland with her family, and their dogs Spike and Oz (named after characters from Buffy the Vampire Slayer).