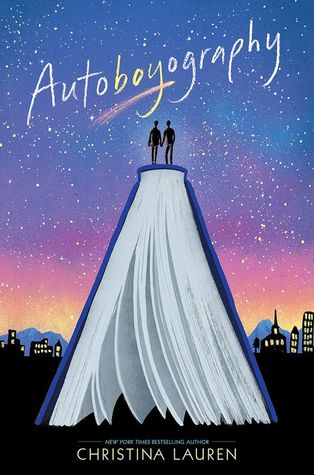 Title: Autoboyagraphy
Author: Christina Lauren
Publication Date: September 12, 2017
Pages: 416
Publisher: Simon & Schuster For Young Readers
Source: Publisher
Format: e-ARC
Age Group: Young Adult
Genre: Contemporary/LGBT
Three years ago, Tanner Scott's family relocated from California to Utah, a move that nudged the bisexual teen temporarily back into the closet. Now, with one semester of high school to go, and no obstacles between him and out-of-state college freedom, Tanner plans to coast through his remaining classes and clear out of Utah.

But when his best friend Autumn dares him to take Provo High's prestigious Seminar—where honor roll students diligently toil to draft a book in a semester—Tanner can't resist going against his better judgment and having a go, if only to prove to Autumn how silly the whole thing is. Writing a book in four months sounds simple. Four months is an eternity.

It turns out, Tanner is only partly right: four months is a long time. After all, it takes only one second for him to notice Sebastian Brother, the Mormon prodigy who sold his own Seminar novel the year before and who now mentors the class. And it takes less than a month for Tanner to fall completely in love with him.
Imagine when a book touches on something that is personal to you. A character in which you can relate to. A story line that has a lasting impression on you Imagine a book that makes you feel like you are seeing your life told through the words on the page. Has that ever happened for you. For me, it has. In this case Autoboyography is the story that has a left a mark on me.
Following Tanner, dared by his best friend, Autumn, to take a seminar class where you write a book in four months, he does it in hopes of coming out with a book. However, after his first class and seeing Sebastian Brother, his mentor, he knows he might be coming out with a lot more. Over the next four months, Tanner must mask his feelings for the Mormon prodigy while trying to write a book that is a lot harder than he thought, especially since it follows his life and he doesn't know the ending.
I connected really well with Tanner. Not just because he is gay but more so because of his personality. At first he realizes what can be at stake if he were to come out and profess his feelings for Sebastian the community could respond in a negative way. However, when feelings are not just one sided, let's talk about complicated.
What was so great about this book was how raw the story was. This is someone's actual story. The characters remind of actual people, the feelings, the confusion, the overall love for each other, all of these are someone's and this is why this story is perfect. Christina Lauren tackle a book that can get complicated but do it with such ease that writing a book seems effortless.
If there is a book that can get you out of any reading slump, it's this one. Am I wanting a novella that takes place a few months later, uggghhh YES! I am so happy I read this book and I am excited to see what else this writing duo has. Have you heard of this book? Have you read it? If not, I have found your next read.