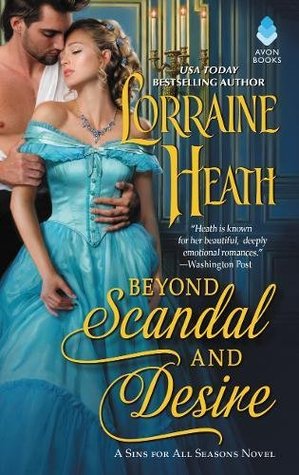 Title: Beyond Scandal and Desire
Author: Lorraine Heath
Publication Date: January 30th, 2018
Publisher: Avon
Pages: 384
Genre: Historical Romance
Age Group: Adult

At birth, Mick Trewlove, the illegitimate son of a duke, was handed over to a commoner. Despite his lowly upbringing, Mick has become a successful businessman, but all his wealth hasn't satisfied his need for revenge against the man who still won't acknowledge him. What else can Mick do but destroy the duke's legitimate son—and woo the heir's betrothed into his own unloving arms . . .





Orphaned and sheltered, Lady Aslyn Hastings longs for a bit of adventure. With her intended often preoccupied, Aslyn finds herself drawn to a darkly handsome entrepreneur who seems to understand her so well. Surely a lady of her station should avoid Mick Trewlove. If only he weren't so irresistible . . .

As secrets are about to be exposed, Mick must decide if his plan for vengeance is worth risking what his heart truly desires.
Lorraine Heath has always had a soft spot for emotional love stories. No doubt because growing up, watching movies with her mom, she was taught that the best movies "won't half make you cry."

She is the daughter of a British beauty (her mom won second place in a beauty contest sponsored by Max Factor® during which she received a kiss from Caesar Romero--Joker on the original Batman TV series) and a Texan who was stationed at Bovingdon while serving in the air force. Lorraine was born in Watford, Hertfordshire, England, but soon after moved to Texas. Her "dual" nationality has given her a love for all things British and Texan, and she enjoys weaving both heritages through her stories.

When she received her BA degree in psychology from the University of Texas, she had no idea she had gained a foundation that would help her to create believable characters—characters that are often described as "real people." Her novels have appeared on bestseller lists, including USA Today, Waldenbooks, and most recently, the New York Times.
WEBSITE
|
FACEBOOK
|
TWITTER
|
INSTAGRAM