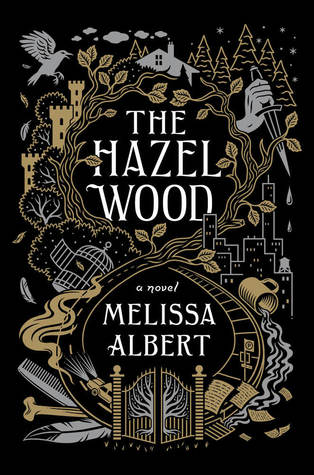 Title: The Hazel Wood
Author: Melissa Albert
Publication Date: January 30, 2018
Publisher: Flatiron Books
Pages: 368
Source: ALA/Publisher
Format: Paperback ARC
Age Group: Young Adult
Genre: Fantasy
Seventeen-year-old Alice and her mother have spent most of Alice's life on the road, always a step ahead of the uncanny bad luck biting at their heels. But when Alice's grandmother, the reclusive author of a cult-classic book of pitch-dark fairy tales, dies alone on her estate, the Hazel Wood, Alice learns how bad her luck can really get: Her mother is stolen away―by a figure who claims to come from the Hinterland, the cruel supernatural world where her grandmother's stories are set. Alice's only lead is the message her mother left behind: "Stay away from the Hazel Wood."

Alice has long steered clear of her grandmother's cultish fans. But now she has no choice but to ally with classmate Ellery Finch, a Hinterland superfan who may have his own reasons for wanting to help her. To retrieve her mother, Alice must venture first to the Hazel Wood, then into the world where her grandmother's tales began―and where she might find out how her own story went so wrong.
The Hazel Wood is a great book to read around Halloween. It is creepy and suspenseful which is what we all love during this time of year.
When I first read the synopsis for The Hazel Wood, I was intrigued because, HELLO!! Creepy fairytales! So when I saw it at ALA this past June, I just had to get a copy.
The Hazel Wood started off great! The characters and suspense was pretty spot on. Plus, I was a little creeped out when "certain" things started to happen. But then the story took a weird turn and the story just didn't keep my interest. I can't really explain it, it felt like two different books, if that makes any sense. I guess I was just expecting something else. Don't get me wrong, it was a good book, but I just didn't feel the story nor did the characters really make an impression on me.
There really wasn't a romance either, which really bummed me. I need some kind of romance in a book. I just wanted a little more from Alice and Finch.
Melissa is a great writer. The writing and her character descriptions were my favorite things from The Hazel Wood. It's actually what kept me going. I needed to know what was going to happen.
Even though I wasn't a huge fan of The Hazel Wood, I still did enjoy it. I love Melissa's writing so I will definitely keep her on my radar for her future books.