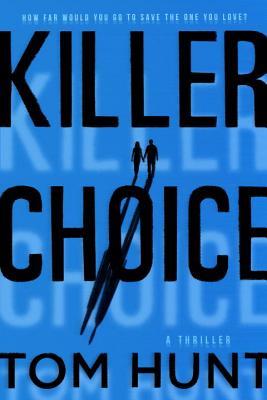 Title: Killer Choice
Author: Tom Hunt
Release Date: January 30th, 2018
Publisher: Berkley
Pages: 352
Age Group: Adult
Genre: Mystery/Thriller
His wife is sick.
He needs $200,000 to save her.
A mysterious man offers to give him the money with just one catch: He has to murder someone to get it.

Gary Foster's life is finally heading in the right direction. After years of trying, his wife, Beth, is pregnant, and he recently opened a business with his brother. But one phone call changes everything....

After collapsing suddenly, Beth has been rushed to the hospital. Tests reveal a devastating diagnosis: an inoperable brain tumor. Their only hope is an expensive experimental treatment available abroad, with a cost that's out of their reach. And Beth's time is running out...

Then a strange man approaches Gary and offers the money he needs, on one condition: that he kill someone, no questions asked. End one life to save another.

In this nail-biting debut novel of domestic suspense, one man makes a choice that forces him to confront the darkest reaches of his soul and betray those closest to him. As he's swept up in a nightmare of escalating violence, he must question his own morality - and determine just how far he's willing to go to save the woman he loves.
It seems, after reading the synopsis, that the whole story is there; however, I'm happy to say that there is so much more to the story with twists and turns that I didn't anticipate coming. This thriller is unlike any that I have read. It delivers what you often look for in a thriller with a good balance of story-telling and character building.
One of my favorite aspects of the story is how fast paced it was. It gripped from the very beginning and didn't stop until the very end. I was always wondering what was going to happen next and not always getting it right. There were quite a few surprises along the way. I finished this one in two sittings and that's not something I do often anymore.
I was surprised by the character development, in a good way. It seems funny to say, but I felt like the characters were very human. They were flawed, they made mistakes, they just did the best they could with the situations they were given. There was this deep question throughout the book of
how far would you go to save someone you love.
It's intimidating to think about but a very powerful and often emotional question to ponder.
If you're looking for a thriller with character development. A thriller that makes you think about what you might do in one of the character's situations (and therefore get a whole new depth to the story). A story with what seems to be real people and a story that takes some surprising turns. If you're looking for any of those things, this could be the book for you.