Hey Owls! We have something really special for you all! We have an exclusive interview with Kami Garcia! I hope you enjoy these rapid fire questions and responses!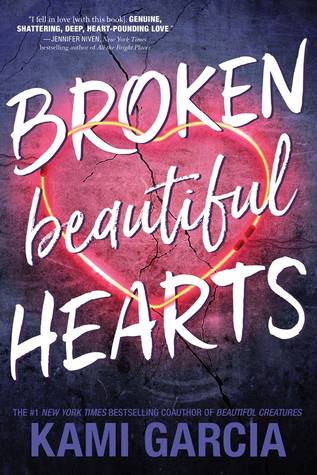 Title: Broken Beautiful Hearts
Author: Kami Garcia
Publication Date: February 6, 2018
Publisher: Imprint (MacMillan)
Age Group: Young Adult
Genre: Contemporary Romance
Before, Peyton was a star soccer player with the perfect boyfriend, Reed. Now, she has a torn knee ligament, a scholarship on the line, and a shattered sense of self. No one believes Reed pushed her, causing her injury, and Peyton just wants to leave the trauma behind. Living with her uncle and twin cousins in their small, football-obsessed town seems like a great escape plan.




There, Peyton meets Owen—high school classmate and local MMA fighter. Though Owen is charming and gentle, Peyton is determined to repress her growing attraction. But when her old and new life collide, Peyton must reclaim the truth of her past in order to save her future.
Kami Garcia is the #1 New York Times, USA Today & international bestselling coauthor of the Beautiful Creatures and Dangerous Creatures novels. BEAUTIFUL CREATURES has been published in 50 countries and translated in 39 languages, and the film Beautiful Creatures released in theaters in 2013, from Warner Brothers. Kami's solo series, The Legion, includes the instant New York Times bestseller UNBREAKABLE, and the sequel UNMARKED, both of which were nominated for Bram Stoker Awards. Her other works include THE X-FILES ORIGINS: AGENT OF CHAOS and the YA contemporary novels THE LOVELY RECKLESS and the forthcoming BROKEN BEAUTIFUL HEARTS (February 2018).

Kami was a teacher for seventeen years before co-authoring her first novel on a dare from seven of her students. If she isn't busy watching Supernatural, Kami can teach you how to escape from a pair of handcuffs or bake a Coca-Cola cake. She lives in Maryland with her family, and their dogs Spike and Oz (named after characters from Buffy the Vampire Slayer).
Write at night or write during the day?
I'm a total night owl. I'd make a great vampire.
Write in silence or write with music?
I need dead silence. I actually wear noise cancelling headphones. When I'm writing, I watch the story play out in my mind like a movie so I need to be able to hear the character's voices.
Best cure for a bad day is…
Baskin Robbins peanut butter chocolate ice cream and a Rocky marathon.
The best part of my day is….
Hanging out with my kids.
Something I am willing to fight for is….
the people I love and people who need someone to fight for them.
Recent book I read and loved….

The Cruel Prince by Holly Black.


Fantasy or contemporary?
I'll always be a fantasy girl at heart, but I also love contemporary.
Good boys or bad boys?
Boys who seem bad on the surface, but then prove how much character they have when you get to know them.
Caribbean vacation or Europe vacation?
Europe. I love history and sightseeing.
Thank you, Kami for being so awesome! The Owls love you and your books! xoxo