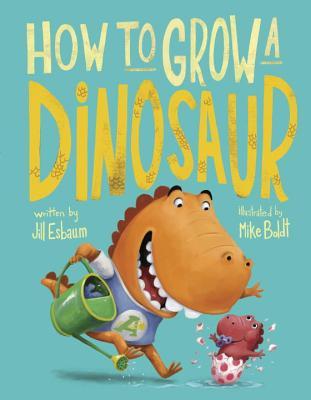 Title: How to Grow a Dinosaur
Author: Jill Esbaum & Mike Boldt (Illustrator)
Release Date: January 23rd, 2018
Publisher: Dial Books
Pages: 40
Age Group: Children - any ages
Genre: Picture book
Good news: Your mom's hatching a baby! Bad news: Babies take their sweet time. And when the baby finally hatches? He's too little to play! He mostly screeches, eats, burps, sleeps, and poops. He doesn't even know he's a dinosaur! That's where you come in. You can teach the baby just about everything -- from peek-a-boo to roaring to table manners to bedtime. Growing a dinosaur is a big job, but you're perfect for it. Why? Because one thing your baby brother wants more than anything... is to be just like you.

With silly kid-humor and sincere, moving moments, this new-sibling book is a perfect combination of funny, reassuring, and truly useful. It captures the excitement and joy of getting to guide a little brother or sister through life, and uses big laughs, great surprises, and gentle lessons to empower kids in how to be a great sibling and role-model to littler ones. Great for family reading and reading aloud.
My littles and I thoroughly enjoyed reading this cute dinosaur book. The illustrations were bright, colorful and attention-grabbing, which helped to engage my two-year-old, just as much as my five-year-old. We all, (yes, me included) had a laugh with this book. Some of the pictures and stories are quite funny.
This book does a wonderful job conveying what it mean to wait for a sibling and then what happens when a little sibling comes home for the first time. The book discusses the expectations that kids may have for their new sibling, such as the baby being just like them, and shows them what a baby is really like with humor and fun. It displays what the child can do with their new little sibling, and what they can show their little sibling.
I love the different dynamics this picture book brought to my littles. It taught them what a baby is like while also showing them how they can be a great older sibling. This is definitely a book I would have sought out if we were going to be adding to our family, or someone close to us was. Not only does it teach a lesson, but it also is just a sweet and fun story.
I'd recommend this book to any family that loves fun stories, loves dinosaurs, want to show their family humor between siblings, is looking to show their children what a baby is like and what the child can do with their little sibling/be an example of for their little baby sibling.