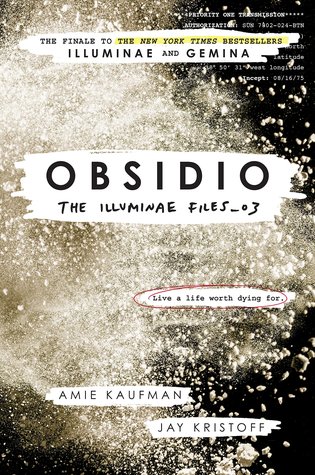 Title: Obsidio (The Illuminae Files #3
Author: Amie Kaufman & Jay Kristoff
Release Date: March 13th, 2018
Publisher: Knopf Books for Young Readers
Pages: 615
Age Group: Young Adult
Genre: Sci-Fi
Kady, Ezra, Hanna, and Nik narrowly escaped with their lives from the attacks on the Heimdall station and now find themselves crammed with 2,000 refugees on the container ship, Mao. With the jump station destroyed and their resources scarce, the only option is to return to Kerenza - but who knows what they'll find seven months after the invasion?

Meanwhile, Kady's cousin, Asha, survived the initial BeiTech assault and has joined Kerenza'a ragtag underground resistance. When Rhys - an old flame from Asha's past - reappears on Kerenza, the two find themselves on opposite sides of the conflict.

With time running out, a final battle will be waged on land and in space, heroes will fall, and hearts will be broken.
If there was any book that I have been waiting for its release, it has to be Obsidio. I remember when I read the first book because my friend had recommended it to me. All I could remember after reading the first installment was how bad I needed the next book in my hands and that waiting a year for it to come out was unacceptable. For those that know me, science fiction is not a genre that I really lean towards when selecting my next read but for some reason, this was a science-fiction book that took me out of this world and through different galaxies.
I think one of my favorite part about this trilogy is in how Kaufman and Kristoff tell the story. Through messages, emails, AI programming, there is so much detail that went into making this story. Both authors blew my mind literally with their story telling that brought laughter, that brought tears, that brought anger and that brought so much more.
The story continues with Kady, Ezra, Hanna, Nik and Asha. Some being on a station that is scare on resources for its crew and one on a planet that is about to start a rebellion that can save the lives of so many. Through different POV's we see the final scenes from every perspective as enemies become friends, allies become the enemy and an AI brings me to literal tears. I do not think I have cried so much while reading a book that it felt natural just to have a box of tissues at the ready whenever I turned to the next page.
I think my most favorite character of all time does have to be Aiden. Now before you jump to these crazy conclusions there is a reason. Although it is the reason, as mentioned above, that brought me to literal tears (you must read to understand why), I always felt that it was misunderstood. That deep down it just wanted to understand the idea of someone to care for and for someone to care for it, yes, even though it is an AI. I think there was both this complexity and simplicity to its being. Now I may be bat-crazy but that is where I stand.
Overall both authors brought me to sit in the corner of my room and really ponder on what I just read and let me say that there are only a couple of authors who have done that. This was such a thrilling and out of this world experience that I will probably take the adventure all over again. If you are the person who has yet to stumble upon this fantastic trilogy I highly encourage you to set whatever book you are currently reading to the side and pick up this interstellar masterpiece.
About Amie & Jay:
Amie Kaufman is the New York Times bestselling co-author of These Broken Stars and This Shattered World, and Illuminae, the first in a new series starting in 2015. She writes science fiction and fantasy for teens, and her favourite procrastination techniques involve chocolate, baking, sailing, excellent books and TV, plotting and executing overseas travel, and napping.

She lives in Melbourne, Australia with her husband, their rescue dog, and her considerable library. She is represented by Tracey Adams of Adams Literary.
Jay Kristoff is the award-winning author of THE LOTUS WAR trilogy, a Japanese-inspired steampunk fantasy. Part 3, ENDSINGER, is out now. He's also co-author of the upcoming ILLUMINAE (with Amie Kaufman), a YA Sci-Fi... thing, to be released by Knopf/Random House in 2015, and NEVERNIGHT, the first part of a new fantasy trilogy kicking off in 2016.

Jay is 6'7 and has approximately 13380 days to live. He abides in Melbourne with his secret agent kung-fu assassin wife, and the world's laziest Jack Russell.
He does not believe in happy endings.
3 winners will receive a finished copy of OBSIDIO, US Only.
a Rafflecopter giveaway