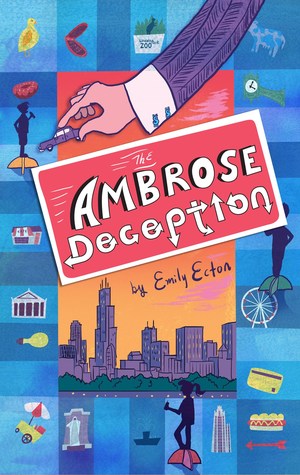 Title: The Ambrose Deception
Author: Emily Ecton
Release Date: February 13, 2018
Publisher: Disney-Hyperion
Pages: 368
Source: Publisher
Format: Paperback ARC
Age Group: Middle Grade
Genre: Contemporary
Melissa is a nobody. Wilf is a slacker. Bondi is a show-off. At least that's what their middle school teachers think. To everyone's surprise, they are the three students chosen to compete for a ten thousand-dollar scholarship, solving clues that lead them to various locations around Chicago. At first the three contestants work independently, but it doesn't take long before each begins to wonder whether the competition is a sham. It's only by secretly joining forces and using their unique talents that the trio is able to uncover the truth behind the Ambrose Deception--a truth that involves a lot more than just a scholarship. With a narrative style as varied and intriguing as the mystery itself, this adventure involving clever clues, plenty of perks, and abhorrent adults is pure wish fulfillment.
You guys! I absolutely adored this middle grade. And I'll say it again - if you're not reading middle grade (ahem, if you're not the intended audience, I mean), then I think you're really missing out! There are so many great stories being told for middle-grade kids. I mean, really good stories. This one, in summation, is a modern-day Willy Wonka story. And just like Willy Wonka, this story had intrigue, suspense, hilarity, and was just plain old fun!!
The superstar of this novel is really the presence of those 3 kids - Bondi, Melissa, and Wilf. The story is brilliantly told from their point of view, with a couple of emails, text messages, and even pictures thrown in. That was something I really enjoyed and thought Emily Ecton did really well. Even without the chapter headings announcing their name, the voices of these three kids were so distinct and so drenched in their unique and lovable personalities, that I knew exactly whose mindset we were in.
Bondi, Melissa, and Wilf are luckily selected to compete in a scavenger hunt around Chicago. The prize at the end of the tunnel is a $10,000 scholarship, which all of them need for one reason or another. They are kids who aren't exactly straight shooters and who are streetwise, making them so much more interesting. But in the end, they are good kids and following them along, stumbling as they try to solve the clues, including trying to solve the bigger mystery of why they're even competing, kept me absolutely hooked from first page to last.
This story was just so much fun! I've been to Chicago a couple of times and never knew half of these "hidden secrets" about the city existed, especially some things steeped in historical facts, that it makes me want to visit again and scope these places out for myself. (And the author does note at the end of the story that all of the places mentioned in the book are places you can actually tour and visit, which is such a plus!)
As you can probably tell, The Ambrose Deception was such a pleasurable read and I recommend it to all middle-grade kids, including the older folks as well. It's an imaginative and entertaining story - honestly, I'd read it again.
As always, happy reading!