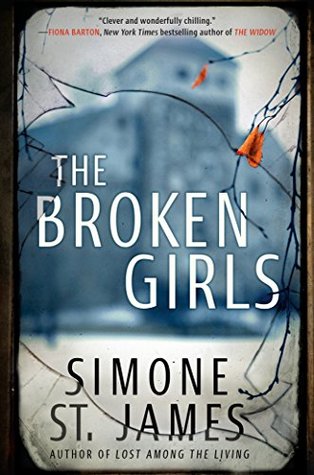 Title: The Broken Girls
Author: Simone St. James
Release Date: March 20th, 2018
Publisher: Berkley
Pages: 336
Age Group: Adult
Genre: Mystery Thriller
A suspense novel from the award-winning author of The Haunting of Maddy Clare...

Vermont, 1950. There's a place for the girls whom no one wants--the troublemakers, the illegitimate, the too smart for their own good. It's called Idlewild Hall. And in the small town where it's located, there are rumors that the boarding school is haunted. Four roommates bond over their whispered fears, their budding friendship blossoming--until one of them mysteriously disappears. . . .

Vermont, 2014. As much as she's tried, journalist Fiona Sheridan cannot stop revisiting the events surrounding her older sister's death. Twenty years ago, her body was found lying in the overgrown fields near the ruins of Idlewild Hall. And though her sister's boyfriend was tried and convicted of murder, Fiona can't shake the suspicion that something was never right about the case.

When Fiona discovers that Idlewild Hall is being restored by an anonymous benefactor, she decides to write a story about it. But a shocking discovery during the renovations will link the loss of her sister to secrets that were meant to stay hidden in the past--and a voice that won't be silenced. . . .
A mystery taking place in a boarding school... sign me up! This story was so intriguing. A journalist is diving into to try to find out what happened to her sister twenty years prior. The story starts to divide from there, one aspect discovering the boarding school being restored. Through learning about the school being restored, the story switches back to the school in 1950 centering around 4 girls that attended. The author does a great job keeping the storylines separate that I never felt confused between the two timelines. (if dual timelines intimidate you, this one is really well done!)
I did feel like the story didn't just divide into these two stories, but kept dividing. It sort of started to feel disjointed with all these different plot points and plot twists happening.
The characters were easy to follow and I really enjoyed following the four girls in the past. Their stories were so interesting and seeing their bond as they got to know each other and dealt with their own problems felt like an authentic experience. Since the story was going different directions, I didn't feel like there was a lot of character depth with other characters.
The writing with everything going on made it feel really fast-paced. I read through this quickly as I couldn't wait to find out what was going to happen next. I thought I had predicted it all, but there was one thing that completely took me by surprise.
Overall, I felt like this book was pretty good. It's a quick read and worth it if any aspect intrigues you.
It was a little off-putting the way the storyline seemed to try to pack too much in. Certain phrases that were thrown in turned me off a little bit as well. But I still recommend this book to anyone that is intrigued, likes mysteries especially set in a boarding school.
Happy Reading from me to you!