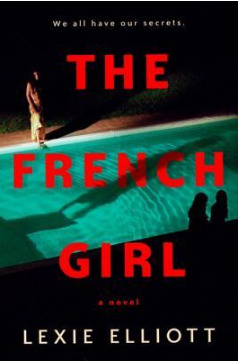 Title: The French Girl
Author: Lexie Elliott
Release Date: February 20th, 2018
Publisher: Berkley Books
Pages: 304
Age Group: Adult
Genre: Mystery/Thriller
They were six university students from Oxford--friends and sometimes more than friends--spending an idyllic week together in a French farmhouse. It was supposed to be the perfect summer getaway--until they met Severine, the girl next door.




For Kate Channing, Severine was an unwelcome presence, her inscrutable beauty undermining the close-knit group's loyalties amid the already simmering tensions. And after a huge altercation on the last night of the holiday, Kate knew nothing would ever be the same. There are some things you can't forgive, and there are some people you can't forget, like Severine, who was never seen again.




Now, a decade later, the case is reopened when Severine's body is found in the well behind the farmhouse. Questioned along with her friends, Kate stands to lose everything she's worked so hard to achieve as suspicion mounts around her. Desperate to resolve her own shifting memories and fearful she will be forever bound to the woman whose presence still haunts her, Kate finds herself buried under layers of deception with no one to set her free.
I find mystery/thrillers so enjoyable, especially ones that draw you in and keep you turning pages throughout the whole book. This book is more of a mystery than a thriller, but there are definitely some thrilling/suspenseful moments throughout the story. This book kept me turning pages with the character development, intermingling relationships and the plot that kept going forward. So let's talk some more about why you should read this book. . .
The character development really surprised me. This was a unique novel in the way that I didn't nessecarily relate to or completely like any of the characters, but I couldn't stop reading about them. Despite not relating to, or completely liking the characters, I did find myself caring about what happened to them. I wanted to see and hear about who was meeting with who, who was into who and what was going to happen next. I really enjoyed the budding romance throughout the book as well.
The mystery and thriller elements kept me intrigued the whole time. While I had a hint about what was going on, it seemed there was always something that was throwing me off. There was one thing that felt a little predictable, but not in a bad way; it kinda went how I would have wanted it to go, if that makes sense without giving too much away. I enjoyed the insights back on the past and I didn't find it too confusing when the story was jumping back and forth. The interweaving of relationships and characters was one of the best parts. There were things I never really saw coming, so much was going on and it all made sense and wasn't at all off-putting or confusing. It kind of felt real, like what could happen among a real group of friends.
This was a quick read in the best kind of way. The plot moved along perfectly, the characters had alot going on that I felt invested, and the book had a sort of beautiful complexity about it that made it seem like I was seeing a real life story playing out. I think this book would make a pretty good film.
If you're looking for a good mystery/thriller, I'd recommend this one. If you're looking for something to sit outside with, or even cozy up inside with, this book will fit right in anywhere. If you're looking for a mystery that focuses on characters in such a good way, then grab this one and check it out!