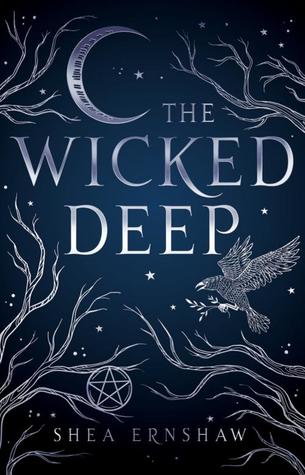 Title: The Wicked Deep
Author: Shea Ernshaw
Release Date: March 6, 2018
Publisher: Simon Pulse
Pages: 320
Source: Netgalley
Format: eARC
Age Group: Young Adult
Genre: Paranormal Romance
Welcome to the cursed town of Sparrow…Where, two centuries ago, three sisters were sentenced to death for witchery. Stones were tied to their ankles and they were drowned in the deep waters surrounding the town. Now, for a brief time each summer, the sisters return, stealing the bodies of three weak-hearted girls so that they may seek their revenge, luring boys into the harbor and pulling them under. Like many locals, seventeen-year-old Penny Talbot has accepted the fate of the town. But this year, on the eve of the sisters' return, a boy named Bo Carter arrives; unaware of the danger he has just stumbled into. Mistrust and lies spread quickly through the salty, rain-soaked streets. The townspeople turn against one another. Penny and Bo suspect each other of hiding secrets. And death comes swiftly to those who cannot resist the call of the sisters. But only Penny sees what others cannot. And she will be forced to choose: save Bo, or save herself.
This has got to be one of the most beautiful covers I've seen in a while. I'm sure it's even more so when you're holding the hardback cover in your hands.
So, real talk: when the publisher comps this book to stories like Hocus Pocus, I just have to get my hands on it because that's one of my favorite stories ever. It's not quite up to par with that story because this is so not the story of the Sanderson sisters we know and love and we watch every year on FreeForm (formerly ABC Family).
What this story does involve are three sisters who are accused of being witches based on their power they have over the men in the town. And according to the legend and actual events, these sisters come back to the town and inhabit the souls of actual girls on the island, claiming the lives of young men.
Morbid much? Absolutely. And what I got from reading The Wicked Deep was this weird and quirky little story I did not expect in the least. It's hard to review this one without giving much away but let's just say that I figured out the big twist or reveal pretty early on, given some of the facts that were presented. But that still didn't matter because there are so many mysteries I needed resolving, that I was intrigued to keep reading.
Also, there's something to be said about this being Ernshaw's debut because she is so adept and talented in her world building. Seriously, she's a great writer. But I think everything surrounding the mystery of this island needed to remain so much a secret, I didn't really get invested when it came to the romance, but I did, however, feel the pain and the suffering that came from this town and the big issue it had with a curse for the last 200 years.
Either way, I think everyone should read this one because unlike many books, this one provided so many topics of interest - things like what makes us good, what truly motivates us, or even, why love prompts us to act in uncanny ways - that I'm still thinking about it long after I closed it.
As always, happy reading!