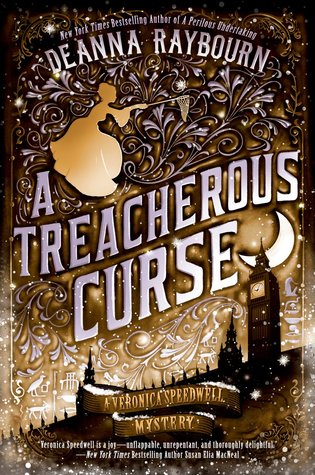 Author
: Deanna Raybourn
Publisher
: Berkley
Release Date
: January 16, 2018
Pages
: 352
Format
: Hardcover
Source
: Publisher
Age Group
: Adult
Genre
: Historical Fiction
London, 1888. As colorful and unfettered as the butterflies she collects, Victorian adventuress Veronica Speedwell can't resist the allure of an exotic mystery—particularly one involving her enigmatic colleague, Stoker. His former expedition partner has vanished from an archaeological dig with a priceless diadem unearthed from the newly discovered tomb of an Egyptian princess. This disappearance is just the latest in a string of unfortunate events that have plagued the controversial expedition, and rumors abound that the curse of the vengeful princess has been unleashed as the shadowy figure of Anubis himself stalks the streets of London. But the perils of an ancient curse are not the only challenges Veronica must face as sordid details and malevolent enemies emerge from Stoker's past. Caught in a tangle of conspiracies and threats—and thrust into the public eye by an enterprising new foe—Veronica must separate facts from fantasy to unravel a web of duplicity that threatens to cost Stoker everything. . . .
In A Treacherous cure Stoker and Veronica are once again investigating this time it happens to be an unleged cures brought from Egypt and also the disappearance of one of Stokers ex best friend. I live for the adventures that Stoker and Veronica go on and I would follow them everywhere.
70 of the book had my attention but I felt like the discovery of everything was a little too drawn out for my liking. I understand why certain events happened but mostly I was more interested in Stoker 's past than the rest of the story but that also happened because of Stoker so I might be a little biased right now. Don't get me wrong the adventures and uncovering of the truth was fun but it wasn't the best uncovering as the previous books.
Stoker, you guys we finally got more of Stokers backstory and it was pretty intense. He's opening up more to Veronica and moving on from his past and can you imagine how heartbreaking it would be to marry someone that loved your best friend and then for them to go behind your back and cheat and then get married to each other and drag your name through the mud. It makes sense why he was so closed off but throughout this novel he talks more about his feelings and by the end he's ready to start a new chapter in his life. That last line he said, I was dying, dying, dying of all the feels.
Oh, and Veronica is amazing as ever, I love her to pieces; she's funny, and smart, and will always speak the truth. In the next book I hope we get more of Veronica and her father. Yes I love the adventures and wouldn't mind more but maybe some short adventures so that their father and daughter relationship can develop pleasssse make it happen Deanna
A Treacherous Curse was another fun read that kept me up late at night and I can't wait for the next two books to see how it all ends and so that my ship, coughs Veronica and Stoker cough, can finally sail.