Welcome to our tour stop for Esme's Wish by Elizabeth Foster, hosted by
Rockstar Book Tours
! We're excited to also share an excerpt and giveaway with your, so make sure you read the excerpt and enter the giveaway!
Enjoy and good luck!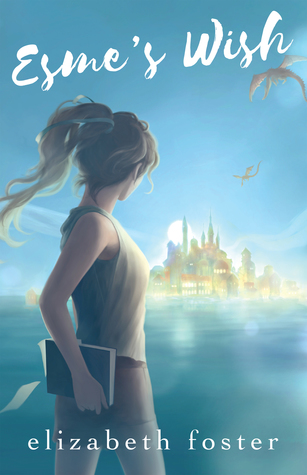 Title: ESME'S WISH
Author: Elizabeth Foster
Pub. Date: October 30, 2017
Publisher: Odyssey Books
Formats: Paperback, eBook
Pages:252
"A fresh new fantasy of an enchanting world." - Wendy Orr, author of Nim's Island and Dragonfly Song.


When fifteen-year-old Esme Silver objects at her father's wedding, her protest is dismissed as the action of a stubborn, selfish teenager. Everyone else has accepted the loss of Esme's mother, Ariane – so why can't she?


But Esme is suspicious. She is sure that others are covering up the real reason for her mother's disappearance – that 'lost at sea' is code for something more terrible, something she has a right to know.


After Esme is accidentally swept into the enchanted world of Aeolia, the truth begins to unfold. With her newfound friends, Daniel and Lillian, Esme retraces her mother's steps in the glittering canal city of Esperance, untangling the threads of Ariane's double life. But the more Esme discovers about her mother, the more she questions whether she really knew her at all.





This fresh, inventive tale is an ideal read for younger teens.
A long passageway opened up to a sight that took Esme's breath away. A majestic waterfall spilled down from the apex of the library's domed roof, crashing soundlessly onto the ground. The great gusts of spray settled into vapour, obscuring the chequered marble floor. Bookshelves lined every wall, accessible by numerous wooden ladders, which ran along high rails. Thick columns craned upward to support a wide gallery above the main floor.
Esme bent down to try to scoop up some of the mist wafting around her ankles, but nothing cold or wet clung to her fingers.
"Another enchantment?"
Daniel nodded. "The books wouldn't last very long if it was real."
"I love coming here," said Lillian, skipping ahead. "This library holds the largest collection of songspells in all of Aeolia."
One of the library patrons, a grey-haired man with an armful of books, ambled straight through the waterfall and out the other side. Esme couldn't resist doing the same. She strode up and stepped into the flow. It felt as though the water was falling right through her, the thrum of magic humming in every drop. She emerged, elated.
Then the three made their way past statues of Greek deities, all mired in mist, as if they were floating above the clouds of Mt Olympus.
"The nine muses," said Lillian, running a hand along one of the sculpted shapes.
Esme tilted her head to read the script that scrolled sideways up a nearby pillar:
The history of Aeolia is writ in water.
I was born in Brisbane, Australia, and now live in Sydney. Apart from writing and reading, which take up most of my time, I love walking, travelling and playing piano (badly).

As a child, I was called Dizzy Lizzy – which I regarded as an insult all my life, until I started writing! Now, daydreaming is a central part of what I do. My favourite childhood books included the Chronicles of Narnia and Enid Blyton's adventure stories. I was such an avid reader that my godfather gave me the complete works of Shakespeare when I was ten. (Still haven't read them all…) My reading tastes nowadays are eclectic, ranging from classic authors such as Jane Austen, to the works of modern YA writers, including J.K. Rowling, Tamora Pierce, Melina Marchetta and Maggie Stiefvater.

I love movies almost as much as books. Dreamlike films – such as the works of Hayao Miyazaki – hugely appeal to me, as do any clever psychological films and TV series which revolve around female characters, such as Buffy and Veronica Mars.

I used to enjoy writing as a child, but then I grew up and was sadly waylaid by more serious pursuits. Reading to my own kids reminded me of how much I missed getting lost in other worlds, and once I started writing again, I couldn't stop. I am also fascinated with people's motivations and personalities, and now I get to explore them on the page. I am a member of the SCBWI, the CBCA, and a reviewer for CBCA's Reading Time.