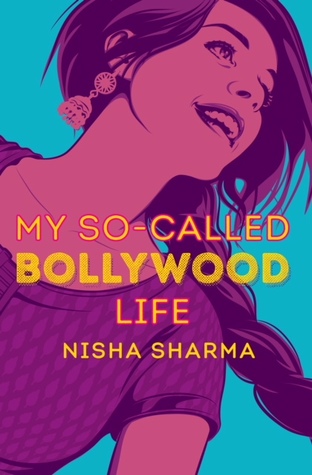 Title: My So-Called Bollywood Life
Author: Nisha Sharma
Publication Date: May 15, 2018
Publisher: Crown Books for Young Readers
Pages: 304
Genre: Contemporary
Age Group: Young Adult
Winnie Mehta was never really convinced that Raj was her soulmate, but their love was written in the stars. Literally, a pandit predicted Winnie would find the love of her life before her 18th birthday, and Raj meets all of the qualifications. Which is why Winnie is shocked to return from her summer at film camp to find her boyfriend of three years hooking up with Jenny Dickens. Worse, Raj is crowned chair of the student film festival, a spot Winnie was counting on for her film school applications. As a self-proclaimed Bollywood expert, Winnie knows this is not how her perfect ending is scripted.

Then there's Dev, a fellow film geek, and one of the few people Winnie can count on to help her reclaim control of her story. Dev is smart charming, and challenges Winnie to look beyond her horoscope to find someone she'd pick for herself. But does falling for Dev mean giving up on her prophecy, and her chance to live happily ever after? To get her Bollywood-like life on track, Winnie will need a little bit of help from fate, family, and of course, a Bollywood movie star.


Like an expertly choreographed Bollywood dance scene, Nisha Sharma's off-beat love story dazzles in the lime light.
WINNIE MEHTA'S MEGA LIST OF
BOLLYWOOD MOVIE SUGGESTIONS
Click to Enlarge
NISHA'S PLAYLIST*
*Courtesy of Nisha Sharma's Website



Nisha Sharma grew up on Bollywood movies, eighties classics, and romance novels, so it comes as no surprise that her first novel My So-Called Bollywood Life (Crown 2018), features all three.




Nisha credits her father for her multiple graduate degrees, and her mother for her love of Shah Rukh Khan and Jane Austen. She lives in Pennsylvania with her cat Lizzie Bennett and her dog Nancey Drew. You can find her online at nisha-sharma.com or on Twitter and Instagram at @nishawrites.