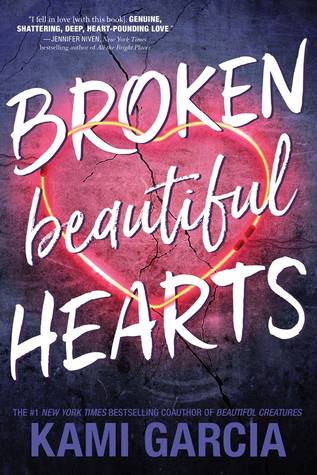 Title: Broken Beautiful Hearts
Author: Kami Garcia
Publication Date: February 6, 2018
Publisher: Imprint (MacMillan)
Pages:
Source: Publisher
Format: eARC/Paperback ARC
Age Group: Young Adult
Genre: Contemporary Romance
Before, Peyton was a star soccer player with the perfect boyfriend, Reed. Now, she has a torn knee ligament, a scholarship on the line, and a shattered sense of self. No one believes Reed pushed her, causing her injury, and Peyton just wants to leave the trauma behind. Living with her uncle and twin cousins in their small, football-obsessed town seems like a great escape plan.

There, Peyton meets Owen—high school classmate and local MMA fighter. Though Owen is charming and gentle, Peyton is determined to repress her growing attraction. But when her old and new life collide, Peyton must reclaim the truth of her past in order to save her future.
Last year I fell in love with The Lovely Wreckless by Kami so when I saw that she had written another contemporary book, Broken Beautiful Hearts, I knew I had to read it. I've met Kami several times in Florida and I absolutely adore her.

I really wish I could say I loved Broken Beautiful Hearts. I tried, I really did. But my problem wasn't the subject matter, nor the story, it was the main character. I just didn't like her. I didn't like her attitude. I understand what happened to her was horrible and that no women deserves what was done to her by the one person she loved, but that doesn't mean she had to be a so nasty to everyone, even the people that cared about her. I just don't get it. This makes me really upset, and I struggled whether I should even write a review for it.

Please don't take my word for it. Everyone has different tastes and just because it wasn't for me, it doesn't mean you won't love it. So, give it a shot, and let me know what you think!

Happy Reading!