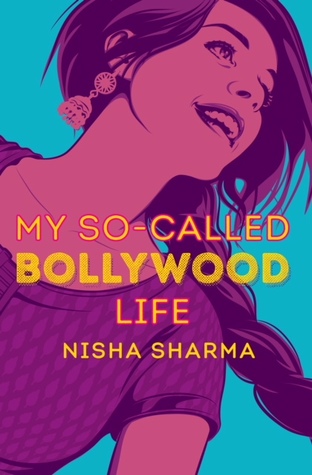 Title: My So-Called Bollywood Life
Author: Nisha Sharma
Release Date: May 15, 2018
Pages: 304
Format: ARC Paperback
Publisher: Crown Books for Young Readers
Age Group: Young Adult
Genre: Contemporary Romance
Winnie Mehta was never really convinced that Raj was her soulmate, but their love was written in the stars. Literally, a pandit predicted Winnie would find the love of her life before her 18th birthday, and Raj meets all of the qualifications. Which is why Winnie is shocked to return from her summer at film camp to find her boyfriend of three years hooking up with Jenny Dickens. Worse, Raj is crowned chair of the student film festival, a spot Winnie was counting on for her film school applications. As a self-proclaimed Bollywood expert, Winnie knows this is not how her perfect ending is scripted.
Then there's Dev, a fellow film geek, and one of the few people Winnie can count on to help her reclaim control of her story. Dev is smart charming, and challenges Winnie to look beyond her horoscope to find someone she'd pick for herself. But does falling for Dev mean giving up on her prophecy, and her chance to live happily ever after? To get her Bollywood-like life on track, Winnie will need a little bit of help from fate, family, and of course, a Bollywood movie star.

Like an expertly choreographed Bollywood dance scene, Nisha Sharma's off-beat love story dazzles in the lime light.
This was such a cute, fast read. I love Vaneeta Mehta a/k/a Winnie - she was spunky and strong-willed and her insatiable love for film is so relatable. At least for someone like me, who loves movies and can quote lines from films that make some people look at me like I've lost my mind.
And guys, I just want to binge watch a bunch of Bollywood movies! If you need a list suggested by the author, you can find it in my post
here
. Winnie is so obsessed with them that she even dreams of actors (specifically, Shah Rukh Khan) and plot lines from movies she watches and reviews on her blog. Winnie is someone who knows what she wants. I certainly wish I was that put together when I was younger.
She is shocked and pissed that her boyfriend, Raj, is dating someone else and is no longer the same guy she grew up with. It's even more disturbing because it was prophesied that she would end up with her soulmate before the age of 18 - and she's now 17 1/2, alone, and freaking out that her destiny seems to be thrown off track. But the relationship with her family (which felt so authentic and a little all too familiar) and friends help to put her back on course. Including her friendship with Dev, which was absolutely adorable.
There were some things about this book that were a bit off putting, including something that Winnie does at the start of the book that is just NOT OKAY - it made me think she might be a little too boy crazy than is reasonable. Also, Winnie only talks about boys with her friend, Bridget, and I craved a little more substance between the two.
Overall, though, this was enjoyable. As always, happy reading!