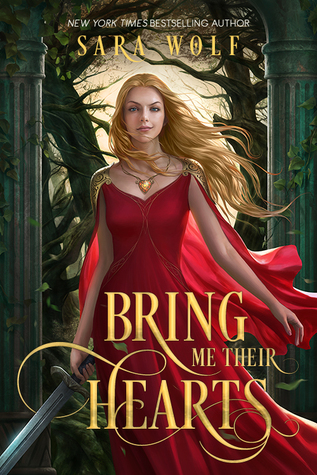 Title: Bring Me Their Hearts
Author: Sara Wolf
Release Date: June 5th, 2018
Publisher: Entangled Teen
Pages: 400
Age Group: Young Adult
Genre: Fantasy
Zera is a Heartless – the immortal, unageing soldier of a witch. Bound to the witch Nightsinger ever since she saved her from the bandits who murdered her family, Zera longs for freedom from the woods they hide in. With her heart in a jar under Nightsinger's control, she serves the witch unquestioningly.

Until Nightsinger asks Zera for a Prince's heart in exchange for her own, with one addendum; if she's discovered infiltrating the court, Nightsinger will destroy her heart rather than see her tortured by the witch-hating nobles.

Crown Prince Lucien d'Malvane hates the royal court as much as it loves him – every tutor too afraid to correct him and every girl jockeying for a place at his darkly handsome side. No one can challenge him – until the arrival of Lady Zera. She's inelegant, smart-mouthed, carefree, and out for his blood. The Prince's honor has him quickly aiming for her throat.

So begins a game of cat and mouse between a girl with nothing to lose and a boy who has it all.

Winner takes the loser's heart.
One of the things that I love about this book is the unique world. In this world, we have individual witches with a team of soldiers. The way that these witches control their soldiers and maintain their loyalty is by keeping their hearts. This is how the soldiers obtain being called heartless. Without a heart, they are ruthless and built to do the witch's bidding without question. I have never encountered any world like this and I was pretty intrigued. I loved the amount of depth and imagination that was put into the world. There's so much to learn, but Wolf does a great job explaining everything. There were parts that felt a little bit info-dumping but it wasn't overwhelming and it didn't take me out of the story. I really enjoyed learning about this world of witches and their soldiers.
My favorite part of this book is Zera. I especially loved her witty remarks. She is so tough, but she also has a soft side. There's so much to love about her in the way she cares for her comrades, the way that she is so tough, and the way that she is also quite hilarious with her wit. I must mention that I loved seeing my ship interact and develop as well. The first meeting was one of my favorite things; when the two people meet and they don't know the importance of one another. I loved seeing the second meeting and beyond that. The romance was another favorite part of the book for me.
I feel like this book/series to come has so much to offer. There are great characters. There's a whole new world. There's action. There's romance. It has one of my favorite tropes; the kind when someone tries to infiltrate a court (I really liked reading that specific plot line of Zera trying to infiltrate the court). Also, the ending! I cannot wait to see where this book is going to go next. This is a perfect read if you're looking for a unique paranormal story with a BA, witty main female character and a good romance.
Happy Reading from me to you!