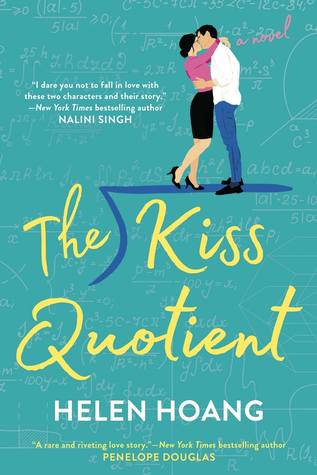 Title: The Kiss Quotient
Series: The Kiss Quotient #1
Author: Helen Hoang
Publication Date: June 5, 2018
Publisher: Berkley Romance
Pages: 336
Format: Paperback ARC
Age Group: Adult
Genre: Contemporary Romance
A heartwarming and refreshing debut novel that proves one thing: there's not enough data in the world to predict what will make your heart tick.

Stella Lane thinks math is the only thing that unites the universe. She comes up with algorithms to predict customer purchases--a job that has given her more money than she knows what to do with, and way less experience in the dating department than the average thirty-year-old.

It doesn't help that Stella has Asperger's and French kissing reminds her of a shark getting its teeth cleaned by pilot fish. Her conclusion: she needs lots of practice--with a professional. Which is why she hires escort Michael Phan. The Vietnamese and Swedish stunner can't afford to turn down Stella's offer, and agrees to help her check off all the boxes on her lesson plan--from foreplay to more-than-missionary position...

Before long, Stella not only learns to appreciate his kisses, but to crave all the other things he's making her feel. Soon, their no-nonsense partnership starts making a strange kind of sense. And the pattern that emerges will convince Stella that love is the best kind of logic.
The Kiss Quotient is such a cute and adorable book. It only took me 2.5 days to finish it and it took longer because, you know, life, LOL, or else I would have finished it sooner. I did a lot of sneak reading at work too. (shhhhh)
When I first got The Kiss Quotient, I knew I was going to love it, I mean, just look at the cute cover! Thank you Berkley for my adorable package too. Look at that mug!
But for real though, this book was amazing. It was super cute and hilarious! Can I just talk about my favorite secondary character? Ngoai was stinkin HILARIOUS! I loved reading the parts when he took Stella to visit his family. His mom, grandma and sisters were amazing. Coming from a big family myself, I can totally relate with Michael.
But right now I want to talk about the funny, yet hot sex scenes! Yes, I said "funny." Poor Stella had like, zero experience before she met Michael. Her previous sexual encounters were pretty depressing, actually, which is the reason why she hired him in the first place. Now, Michael is a pro....literally, but he's not cocky either. He's sweet and gentle and after the first night with Stella, he knows he is going to break his number one rule - Don't see the same client twice. But sometimes in life, things don't always go according to plan. And that is not always a bad thing.
Another thing that I love about The Kiss Quotient, is the awareness that this little book brings to autism. Stella, the main character has Aspergers and Helen brings to light Stella's daily struggles. Even the simplest things and situations, can cause over stimulation and cause severe anxiety. I have never read a book that has a character, with autism. So, Helen, thank you for sharing Stella with us!
It's hard to believe that this is Helen's debut novel. She through this one out of the ballpark. So make sure you add this one to your TBR list. Better yet, add it and then go buy it! It's a perfect summer read!
Helen Hoang is that shy person who never talks. Until she does. And the worst things fly out of her mouth. She read her first romance novel in eighth grade and has been addicted ever since. In 2016, she was diagnosed with Autism Spectrum Disorder in line with what was previously known as Asperger's Syndrome. Her journey inspired THE KISS QUOTIENT. She currently lives in San Diego, California with her husband, two kids, and pet fish.