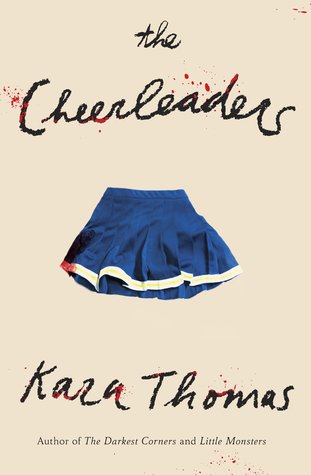 Title: The Cheerleaders
Author: Kara Thomas
Release Date: July 31, 2018
Pages: 384
Format: ARC Paperback
Publisher: Delacorte Press
Age Group: Young Adult
Genre: Suspense Thriller/Mystery
There are no more cheerleaders in the town of Sunnybrook. First there was the car accident—two girls gone after hitting a tree on a rainy night. Not long after, the murders happened. Those two girls were killed by the man next door. The police shot him, so no one will ever know why he did it. Monica's sister was the last cheerleader to die. After her suicide, Sunnybrook High disbanded the cheer squad. No one wanted to be reminded of the girls they lost. That was five years ago. Now the faculty and students at Sunnybrook High want to remember the lost cheerleaders. But for Monica, it's not that easy. She just wants to forget. Only, Monica's world is starting to unravel. There are the letters in her stepdad's desk, an unearthed, years-old cell phone, a strange new friend at school. . . . Whatever happened five years ago isn't over. Some people in town know more than they're saying. And somehow Monica is at the center of it all. There are no more cheerleaders in Sunnybrook, but that doesn't mean anyone else is safe.
I read somewhere that Kara Thomas loves for her readers to feel that her books are all kinds of messed up...in the best way possible. And man, that's how I felt as I finished this book. My heart was pounding, it was that intense.
Now for some trigger warnings! This book has them - ALL of them, so if you can't handle (sexual) assault, gore, murder, etc., then I highly advise to stay away from this one. That's as much detail as I can give without spoilers.
Monica Rayburn lives in a town that has seen its fair share of tragedy. Five years ago, five young cheerleaders died in different ways - one of them being her sister. After that, Sunnybrook High School did away with cheerleading. Since they are coming up on the anniversary of their death, Monica is asked to help with the memorial to honor the memory of the girls. But Monica isn't really interested because, at the start of the story, she's distracted, in a major and complicated way. And as soon as she learns a bit of information which sheds a different light on her sister's death, Monica is on the hunt to find out what really happened all those years ago and to bridge the link between the deaths.
I must admit, Monica is not a likable character but despite that, I empathized with her. She's flawed and she's faced tragedy at a young age which has taken its toll on her and her family. And her family isn't that great either. As a matter of fact and as the synopsis suggests, you absolutely cannot trust anyone you meet on the page (except for maybe her 10-year-old brother, but even then). What I really liked were chapters told from the point of view of her sister, which helped inform the story and points out the missing details people can miss when you only have witness accounts and crime scenes.
And maybe it's because I don't read in this genre too often, but I thought the twists and turns were well thought out and I couldn't guess what the real story was until the last page. This is my first Kara Thomas novel and I can't wait to dig into her other stories. It was fun as much as it was anxiety-inducing - kind of how roller coasters make you feel.
One more thing: this would make such a great movie, to be watched sometime during the fall season. The story is told during the month of October, there's tons of suspense and mystery, and even the town of Sunnybrook elicits Buffy the Vampire-type feels. The setting/time plays a role as major as the plot. Super creepy and what I love to read during the summer when it's absolutely sunny and scorching outside. I highly recommend!
As always, happy reading.