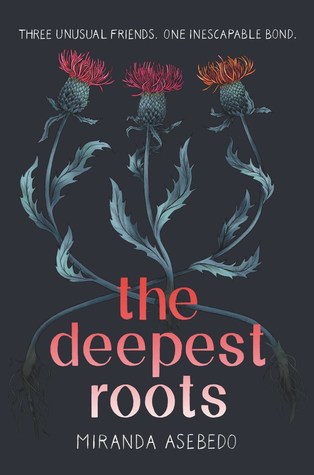 Title: The Deepest Roots
Author: Miranda Asebedo
Release Date: September 18, 2018
Pages: 320
Format: ARC Paperback
Publisher: HarperTeen
Age Group: Young Adult
Genre: Magical Realism/Contemporary
Contemporary with the slightest twist of magic, this stunning debut YA novel is a fresh and heartwarming story about the power of friendship. Cottonwood Hollow, Kansas, is a strange place. For the past century, every girl has been born with a special talent, like the ability to Fix any object, Heal any wound, or Find what is missing. Best friends Rome, Lux, and Mercy all have similar talents, but to them, their abilities often feel like a curse. Rome may be able to Fix anything she touches, but that won't help her mom pay rent or make it any easier to confide in Lux and Mercy about what's going on at home. And Rome isn't the only one. Lux has been hiding bigger, more dangerous secrets. As Rome struggles to keep her friendships close, she discovers the truth about life in Cottonwood Hollow—that friends are stronger than curses, that trust is worth the risk, and sometimes, what you've been looking for has been under your feet the whole time.
Oh wow, how I adored this debut novel! I can't gush enough about this magical realism/contemporary/slightly paranormal read where all my senses were completely immersed as I read about these girls from Cottonwood Hollow: mainly, Rome, Lux, and Mercy. It's been a while since I've read a YA novel like this one - seemingly quiet but its got a huge heart and the winning factor is definitely the focus on female friendships.
Right off the bat, there is so much worldbuilding, which is a feat even for contemporary novels. The town of Cottonwood Hollow is different in that every girl and woman in the town is born with particular gifts. And because of this, the town has had its fair share of criticism, hardships, and complicated history.
The story is told from the point of view of Rome, who happens to be a Fixer. She can fix things and this has served her both positively and negatively. In my humble opinion, I believe the point of the story is really finding out how these gifts help shape her and her friends' identities and of the town, really. Lux and Mercy, her best friends, also have their particular talents and they've known each other for so long that they are all practically sisters. The beginning of the story starts with a bit of mystery and the uncovering of the mystery lends itself to the absolutely beautiful and authentic character development of each of them and the dynamic between the three.
And Rome! I just love her. She's strong and fierce and although she's had a rough life, she stands by who she is and what she believes in. Not often do you have a female main character who is a mechanic! By the end of the story, I just wanted to give her and her friends a big hug. That's what really stood out to me the most. Asebedo's writing style is smooth and so skilled that I was able to suspend my disbelief concerning all the characters in the book, the town, and the friendships because it all felt so REAL.
I finished it in less than 24 hours, it's that good. I look forward to reading everything else Ms. Asebedo writes because I'm a fan for life! Make sure to pick this one up when it comes out on September 18. You can also pre-order it across all markets.
As always, happy reading!
Thank you so much to HarperTeen for providing an ARC in exchange for an honest review. (All thoughts are my own.)
1. How does it feel to have your book debut this month? It must feel a bit surreal but so exciting!
The funny thing about publishing is how long it takes. It's usually around two years from the time a book sells to when you actually see it on the shelf in a bookstore, so for me it's sort of a "FINALLY" feeling. I feel like I've been waiting forever! But I am so excited to share this story, and I hope it finds a home in the hearts of wonderful readers!
2. How long have you been writing and was there something that clicked with this particular story where you said, "this is it!" – this is the story I'm going to seek publication for? Or, had you queried before with another project that didn't work out?
When I was writing this story, I did have sort of an "aha" moment simply because the story came together so quickly for me. I drafted it in three weeks! I had two projects before The Deepest Roots that I queried, and both were fantasies. Neither one of them got me an agent, so I set out to draft something completely different. This time, I wrote something that was very close to home, literally, since the book is set in rural Kansas where I grew up.
3. What was the query process like? I see that your agent is Kristin Nelson, who also represents YA favorites such as Marie Lu, Stacey Lee, Simone Elkeles, and Ally Carter, just to name a few. How did you find her and was she one of the first agents you queried? She seems like a badass agent and just great person and I love how transparent she is about the publishing world in her monthly newsletters.
Kristin and everyone at NLA are fantastic. Publishing can be a mysterious business, but Kristin is great about demystifying it, and I so appreciate that about her. As to my querying process, I used QueryTracker to come up with a list of agents who represented YA, and then from there I used a notebook to organize my research. I visited every agent's website and found out exactly what they were looking for (and what they'd seen too much of!). That helped me narrow my search down a lot. I got full requests the same day I started querying, so it all happened pretty quickly! That's how I knew this book was very different from the two projects that had gotten shelved before it.
4. Your story is so magical and atmospheric but still grounded in a way that made the characters and Cottonwood Hollow feel so real. When you get an idea for a story you want to commit to and ultimately write, what comes first for you? Is it the world, or the characters, or a combination of both and other things?
Usually for me it's the characters that come first, but in the case of The Deepest Roots, it was the opening tornado scene! Once I got stuck in my family's mobile home during a terrible storm, and by the time I realized I needed to find a shelter, it was far too dangerous to go outside. I was recalling that particular event after a recent storm happened in the summer of 2016, and that's where I got the opening scene for The Deepest Roots. Rome's character came soon after, and then Lux and Mercy, and they sort of ran with the story. For example, Rome's revenge on Aaron's truck was totally unplanned, but I realized after she saw Lux was hurt, Rome would avenge her friend without thinking of the consequences.
5. I have to ask because I constantly hear authors talk about the multiple revisions their books go through before it's publishable. How many revisions did you go through with this novel? I read somewhere that you wrote the first draft in three weeks?
I revised the book twice, once with notes from my critique partner, and once on my own, but it all happened in the space of the summer of 2016. After I signed with Kristin, we went through, I believe, three rounds of revisions before we subbed it to publishing houses. So yes, there's a lot of revision even before the book sells! And then after that I went through a couple more rounds with my editor at HarperTeen before we were ready to publish.
6. What was your favorite scene to write in The Deepest Roots?
My favorite scene to write was probably when the girls first break into Emmeline Remington's house. I loved the idea of the three of them working together to get into the house. Mercy is very petite, so it's just second nature to Rome to give her a boost. And then when they're all inside, their personalities really come into play. Mercy is sympathetic to the ghost's presence, Lux is very focused and goal-driven on finding what they want, and Rome is immediately protective of her two BFFs when things start to get crazy.
7. How do you juggle writing with all other responsibilities in your life? Are you someone who carves out specific writing times or do you write in spurts, finding pockets of time whenever you can?
I try to make myself stick to a schedule, but I'll be honest, I'm more of a spurt writer! I'll start writing during one of my designated chunks of time, but if the words are really flowing, I sort of abandon everything else for writing! My family is really great and supportive, though, so when they see me "in the zone," they usually give me a wide berth and order Chinese food for dinner.
8. What's next? Anything you can tell us at the moment?
I just turned in edits for my second YA novel with a twist of magic, A Constellation of Roses. It's not a sequel to The Deepest Roots, but it is set in the same world, and savvy readers will find a few Cottonwood Hollow Easter eggs!
Thank you Miranda, for being so gracious with your time!
Miranda Asebedo was born and raised in rural Kansas with a love of fast cars, open skies, and books. She carried that love of books to college, where she got her B.A. and M.A. in English, with an emphasis in Creative Writing and Literature. A Seaton Fellowship recipient, her short fiction has appeared in Kansas Voices, Touchstone, and Midway Journal. Miranda still lives on the prairie today with her husband, two kids, and two majestic bulldogs named Princess Jellybean and Captain Jack Wobbles. If Miranda's not writing or reading, she's most likely convinced everyone to load up in the family muscle car and hit the road. WEBSITE TWITTER INSTAGRAM