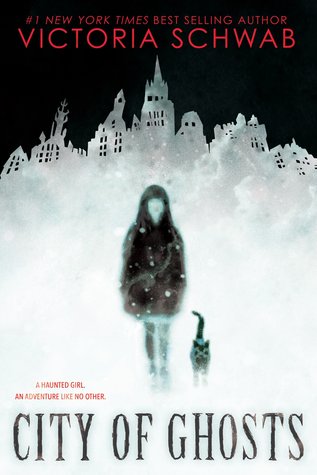 Title: City of Ghosts
Author: Victoria Schwab
Release Date: August 28, 2018
Pages: 272
Format: Paperback
Publisher: Scholastic
Age Group: Middle Grade
Genre: Paranormal
Cassidy Blake's parents are The Inspectres, a (somewhat inept) ghost-hunting team. But Cass herself can REALLY see ghosts. In fact, her best friend, Jacob, just happens to be one. When The Inspectres head to ultra-haunted Edinburgh, Scotland, for their new TV show, Cass—and Jacob—come along. In Scotland, Cass is surrounded by ghosts, not all of them friendly. Then she meets Lara, a girl who can also see the dead. But Lara tells Cassidy that as an In-betweener, their job is to send ghosts permanently beyond the Veil. Cass isn't sure about her new mission, but she does know the sinister Red Raven haunting the city doesn't belong in her world. Cassidy's powers will draw her into an epic fight that stretches through the worlds of the living and the dead, in order to save herself.
This was one of my most anticipated middle grade reads this year and it hit all the notes I generally enjoy in this age category. If you have young ones who are a bit faint of heart or easily scared, I'm letting you know now as I did think there are certain parts that may be on the scary side and even gory parts, especially towards the end. But it's just perfect for those young readers who crave that type of narrative, adults, and everyone in between.
The subject of ghosts is a fascinating topic to me and I like the way Ms. Schwab set the parameters for how they operate in this world.
Cassidy has a complicated relationship with her best friend Jacob. You see, he is a ghost and after a life-changing event happens in Cassidy's life, they've been inextricably linked. Cassidy and Jacob are friends in the way real life ones would be - they've established friendship rules, they can read each other's actions, but not thoughts because only Jacob could do that. Overall, the rules are pretty set in this world and Cassidy is looking forward to spending the summer at the beach.
But her parents are ghost hunters and write literature about the paranormal. And they are offered a job to go film a show based on their popular books in Edinburgh, Scotland. This derails Cassidy's life in more ways than one because not only will she not spend the summer away from ghosts (as they tug at her if there's a mystery to be solved and at the beach, there aren't many spirits roaming around), but she's going to spend it in one of the most haunted cities in the world.
With that, the plot really gets going. This was such a fun book to read and I can't wait to see what adventures await Cassidy in Book 2. This one is out now so if it interests you, especially with Halloween around the corner, I recommend it.
As always, happy reading!