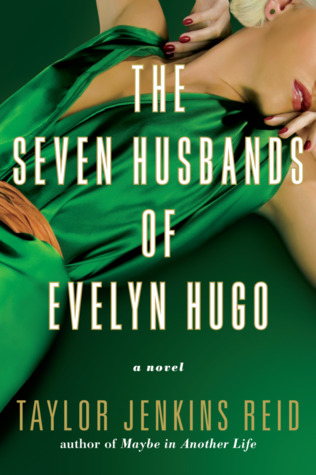 Title: The Seven Husbands of Evelyn Hugo
Author: Taylor Jenkins Reid
Release Date: June 13, 2017
Pages: 388
Format: ARC Paperback
Publisher: Atria
Age Group: Adult
Genre: Contemporary/Historical
Aging and reclusive Hollywood movie icon Evelyn Hugo is finally ready to tell the truth about her glamorous and scandalous life. But when she chooses unknown magazine reporter Monique Grant for the job, no one is more astounded than Monique herself. Why her? Why now? Monique is not exactly on top of the world. Her husband has left her, and her professional life is going nowhere. Regardless of why Evelyn has selected her to write her biography, Monique is determined to use this opportunity to jumpstart her career. Summoned to Evelyn's luxurious apartment, Monique listens in fascination as the actress tells her story. From making her way to Los Angeles in the 1950s to her decision to leave show business in the '80s, and, of course, the seven husbands along the way, Evelyn unspools a tale of ruthless ambition, unexpected friendship, and a great forbidden love. Monique begins to feel a very real connection to the legendary star, but as Evelyn's story near its conclusion, it becomes clear that her life intersects with Monique's own in tragic and irreversible ways. Written with Reid's signature talent for creating "complex, likable characters" (Real Simple), this is a mesmerizing journey through the splendor of old Hollywood into the harsh realities of the present day as two women struggle with what it means -and what it costs- to face the truth.
This book has made my top five reads of 2018. It's so good and Taylor Jenkins Reid is so clever - from the title of the book to the ultimate subject matter of the book, you have no idea what you're in for but you will be pleasantly surprised.
I've always loved reading the history of old Hollywood - back in the day when the studios owned their actors and society was still so far away from reviving the women's movement, accepting homosexuality as anything other than deviant, and so distant from the #metoo movement. But that's absolutely why I loved this book. Evelyn Hugo is a woman who has had to deceive, lie, cheat, and otherwise ignore her moral compass and the path her life takes finally leads her to uncover all the trials and tribulations of her life because now, decades after she first became famous, she wants a tell-all published to uncover her secrets.
The story begins with Monique Grant, a journalist who is called into her boss's office because the elusive and aged star Evelyn Hugo has agreed to give an interview for the first time but has requested Monique specifically to undertake the job. Monique is unclear why Evelyn believes she is the only one who can tell her story. They don't know each other before their first encounter and Monique is barely a journalist, mostly writing "puff" pieces. The mystery surrounding it all, which is intertwined with Evelyn's story, is what really kept me turning the pages.
The chapters alternate with Evelyn telling her story (through each of her seven marriages) and those shorter chapters between Monique and Evelyn. Here we see how Monique is reacting every step of the way, asking questions, and from Monique's perspective, we see Evelyn in a different light, how she carries herself, how the events she's telling Monique have affected her but as she realizes, Evelyn can't help herself. She is multi-faceted, both good and bad at the same time. And it all leads to the question everyone wants to know: after seven husbands, who was the love of Evelyn Hugo's life?
There isn't much more I can say that won't cause me to spoil the story. But it covers social, economic, and psychological issues so important in our discussions of the world as it stands today. This story will live with me for a long time as much as I suppose, would live with Monique if she were a real person. And the genius of Reid's writing is that the characters all seem so real - so much so that I'm still emotionally affected by the reveals that come at the end.
This story sucked me in and obviously, I highly recommend it. As always, happy reading!