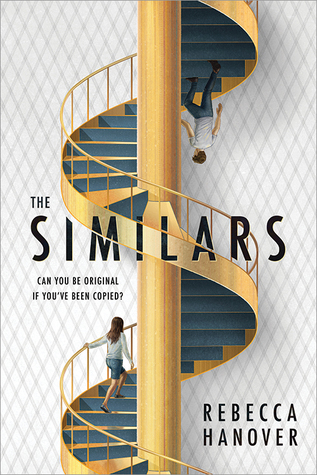 Title: The Similars
Author: Rebecca Hanover
Release Date: January 1, 2019
Pages: 352
Format: eARC
Publisher: Sourcebooks Fire
Age Group: Young Adult
Genre: Contemporary/Sci-fi
When six clones join Emmaline's prestigious boarding school, she must confront the heartbreak of seeing her dead best friend's face each day in class. The Similars are all anyone can talk about at the elite Darkwood Academy. Who are these six clones? What are the odds that all of them would be Darkwood students? Who is the madman who broke the law to create them? Emma couldn't care less. Her best friend, Oliver, died over the summer and all she can think about is how to get through her junior year without him. Then she comes face-to-heartbreaking-face with Levi—Oliver's exact DNA replica and one of the Similars. Emma wants nothing to do with the Similars, but she keeps getting pulled deeper and deeper into their clique, uncovering dark truths about the clones and her prestigious school along the way. But no one can be trusted…not even the boy she is falling for who has Oliver's face.
As soon as I read the premise of this book, I knew I absolutely had to read it. It's interesting because it details a world we can imagine possible - I mean clones! Scientists are now
genetically editing babies
and have successfully done so (well, we have to wait-and-see).
This book was an okay read for me. It had so many things I liked: there were some twists and turns I did not see coming, I generally liked the concept, and always give me a book set at a boarding school. The story follows Emma, who is returning to school after losing her best friend Oliver over the summer. Right away, we get great world building as we see that she's in a car that drives itself and she interacts with AI (think Alexa or Siri but these bots can show emotion).
Once she arrives at school, the entire student body is interrupted by the arrival of clones, clones of actual students attending Darkwood Academy, including her best friend's Oliver clone, Levi Gravelle. As the clones try to integrate, we see that there's a big debate as to whether they should be attending the school - because obviously, it makes some very uncomfortable. This really sets the stage for an intriguing story.
But I did find myself slogging through the story as I got about the halfway mark. There were some "character development" issues for me in that I didn't feel emotionally invested in the characters after they had all been introduced. Similarly (pun intended!), I also didn't really connect with the love story that's developed between Emma and Levi. I think it was because it didn't really build organically and I also felt I didn't much know about Levi or see how his attraction to Emma really developed. A third thing is that the story evolved to a comparison of clones v. illegal immigration (a definite hot topic) and every time it was mentioned, it felt like it was forced and preachy - like LOOK, this is what's going on now.
Even though there were some negative aspects, the story ended on a big reveal/cliffhanger, and I'd be interested in reading the second book in the series. I definitely do not discourage you from giving this one a try because it was very interesting and made me think about our scientific advancements and how this will affect us in the future.
As always, happy reading!
Thank you so much to Sourcebooks Fire for an eARC through Netgalley in exchange for an honest opinion!