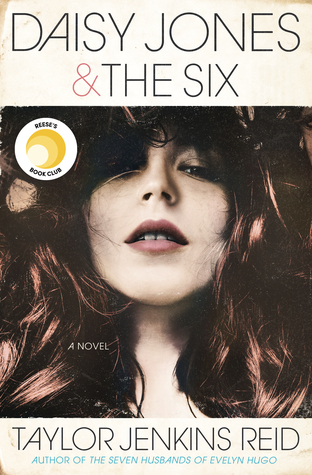 Title: Daisy Jones & The Six
Author: Taylor Jenkins Reid
Release Date: March 5, 2019
Pages: 368
Format: Hardcover
Publisher: Ballantine Books
Age Group: Adult
Genre: Adult
Everyone knows Daisy Jones & The Six, but nobody knows the reason behind their split at the absolute height of their popularity . . . until now. Daisy is a girl coming of age in L.A. in the late sixties, sneaking into clubs on the Sunset Strip, sleeping with rock stars, and dreaming of singing at the Whisky a Go Go. The sex and drugs are thrilling, but it's the rock and roll she loves most. By the time she's twenty, her voice is getting noticed, and she has the kind of heedless beauty that makes people do crazy things. Also getting noticed is The Six, a band led by the brooding Billy Dunne. On the eve of their first tour, his girlfriend Camila finds out she's pregnant, and with the pressure of impending fatherhood and fame, Billy goes a little wild on the road. Daisy and Billy cross paths when a producer realizes that the key to supercharged success is to put the two together. What happens next will become the stuff of legend. The making of that legend is chronicled in this riveting and unforgettable novel, written as an oral history of one of the biggest bands of the seventies. Taylor Jenkins Reid is a talented writer who takes her work to a new level with Daisy Jones & The Six, brilliantly capturing a place and time in an utterly distinctive voice.
We love bringing everyone into a book and an author we love in a very astronomically different way. And that's what we're going to do. Katie and I both read this gem of a book so we decided to do things a little differently. Actually, we tried this little experiment before and if you want to read our first dual interview,
go here.
Also, even if our answers are similar, we both didn't know what each other answered so how we both answer will surprise both you and us.
So here are our questions:
1. Who was your favorite character?
Ilena I don't really think I can answer this one without considering the pros and cons of all the characters. Of course, you would think that Daisy Jones is the main focal point. But because of the way the book is written, we really get the point of view from all of the characters. And when I really think about it, and as much as I appreciated Daisy Jones even though sometimes she wasn't that likable of a character, my favorite character ended up being Karen (who has a pretty interesting romantic relationship, which I won't spoil), but who honestly, I wanted to know so much more about and wouldn't mind reading a spin-off novella, if the inspiration ever hits Taylor Jenkins Reid.
Katie I'm hesitant to answer this question because I really appreciate the way that Taylor Jenkins Reid weaved her characters. She does an amazing job of making everyone feel very real with their flaws and everything. My first response would have to be Daisy, because she's a rather iconic woman, done so well. We all know a cool girl, with confidence and an invisible ability to pull people to them. However, I also loved Billy's complexity and the way he developed throughout the story.
2. What was your favorite relationship within the book?
Ilena Probable referring back to the last question, my favorite was Karen and Graham. I adored them so hard. Their relationship was so interesting, and not the typical dynamic you're used to seeing in a female/male relationship.
Katie I was totally rooting for Karen and Graham throughout the book.
3. What aspect of the book stood out to you the most and why?
Ilena I really enjoyed the format of the book. It was told in a transcript-like version. It caught me off guard even more because I didn't know that it was written that way going into the book. I thought it was going bother me but it really didn't - although I do think that I felt a little unconnected to the characters. But what I did find is that everyone had told their own version of events, which is so like real life.
Katie The format really stood out to me. I haven't encountered a book written like this before. With people talking like an interview format. There was so much in it that felt real because of this. There was a bit of unreliability, wondering who is telling the truth, and seeing the characters through other's eyes while simultaneously hearing the character's thoughts themselves. I sometimes enjoyed it, sometimes not so much, but it really stood out to me.
4. What kind of reader would you recommend this book to?
Ilena I'm a kid of the 80's and 90's so i really grew up with television programs like VH1's Behind the Music and Pop-Up Video, as well as MTV's Unplugged. If you never watched these shows, I highly recommend looking it up on YouTube so that you get a sense. For those who are bit younger, I would definitely recommend it to people who are curious as to what goes on behind the scene, and have an appreciation for, music groups. Personally, I was so interested in what happened with The Civil Wars (and even though I have my own theories, no one truly knows).
Katie I would recommend this to someone who loves getting to know characters. That loves complex characters and seeing the good and bad. I would also recommend this to anyone wanting something different, or someone who loves music.
5. If you could live in a different decade, which would you choose and why?
Ilena I would love to have lived either in the 1920's, right before the Depression really hit or sometime in the 60's and 70's, during the height of music, love, drugs, peace, and war - although it feels like we're living in sort of similar times, there were still things that people wouldn't have to worry about: such as social media, AIDS, and other major crisis we've had to deal with since.
Katie I feel drawn to the 1920s - what an era!
6. A song that reminds you of the book?
Ilena If I had to pick one song, I'd probably pick something from the 70's, sung by a woman but backed by a group of men, such as Dreams by Fleetwood Mac. My second, and really close second, would be When the Levee Breaks by Led Zeppelin.
Katie The song that reminds me of this book is Remembering Sunday by All Time Low. If you go listen to this song, hang in there until the very end. To me, this song exudes some familiar themes from the book, a guy chasing a girl, a girl who is hard to reach, a desperation, a hope, a yearning for love, a resistance to love, and a relationship full of emotion.