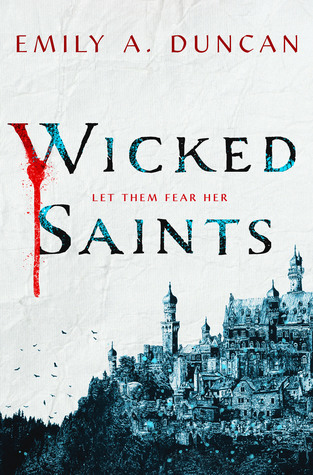 Title: Wicked Saints (Something Dark and Holy #1)
Author: Emily A. Duncan
Release Date: April 2, 2019
Pages: 385
Format: eARC
Publisher: Wednesday Books
Age Group: Young Adult
Genre: Fantasy
A girl who can speak to gods must save her people without destroying herself. A prince in danger must decide who to trust. A boy with a monstrous secret waits in the wings. Together, they must assassinate the king and stop the war. In a centuries-long war where beauty and brutality meet, their three paths entwine in a shadowy world of spilled blood and mysterious saints, where a forbidden romance threatens to tip the scales between dark and light. Wicked Saints is the thrilling start to Emily A. Duncan's devastatingly Gothic Something Dark and Holy trilogy...
This book immediately made me experience the feelings I had when I first started reading Naomi Novik's Uprooted, meaning it already felt grounded and I connected with the voice of one of our POV main characters, Nadezhda (Nadya, for short). And man, was this a good one. This fantasy, in general, had a main theme generally missing from many - which is religion. And it's strange to me because religion and politics are both equally intriguing and this world is dark and courageous and for a debut, is something to be admired.
I'm always amazed at the ability of an author to world build and the magic systems in this book were perfect in strengthening the opposing and warring Kalyazin and Tranavians. Nadya is a Kalyazi(?) who lives in a remote monastery. She struggles with her beliefs while communicating with the gods. She's fiercely loyal and soon teams up with Malachiasz, a bad boy who has his own agenda against the Tranavians. If you're into bad boys, you'll definitely like him.
This was a fast-paced character-driven narrative and as much as I loved Nadya's character, I was completely entertained by Severin, the Tranavian prince, and blood mage. His character is a drunk with daddy issues and a lot of his story was underdeveloped so I'm interested to see how it unravels in the next installment. The story started strong but did meander a bit in the middle but I did feel like the action, secrets, and wickedness picked up more and more towards the end. All in all, I'm excited to see how this story will continue because the ending left a lot to be desired.
As always, happy reading!