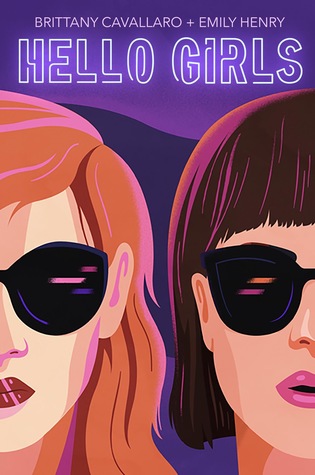 Title: Hello Girls
Author: Brittany Cavallaro + Emily Henry
Release Date: August 6, 2019
Pages: 320
Format: ARC ebook
Publisher: Katherine Tegen Books
Age Group: Young Adult
Genre: Contemporary/Suspense
From critically acclaimed authors Brittany Cavallaro and Emily Henry comes a page-turning, darkly funny teen novel about two teenage girls who have had enough of the controlling men in their lives—and take their rage on the road to make a new life for themselves. Best friends are forged by fire. For Winona Olsen and Lucille Pryce, that fire happened the night they met outside the police station—both deciding whether to turn their families in. Winona has been starving for life in the seemingly perfect home that she shares with her seemingly perfect father, celebrity weatherman Stormy Olsen. No one knows that he locks the pantry door to control her eating and leaves bruises where no one can see them. Lucille has been suffocating beneath the needs of her mother and her drug-dealing brother, wondering if there's more out there for her than disappearing waitress tips and generations of barely getting by. One harrowing night, Winona and Lucille realize they can't wait until graduation to start their new lives. They need out. Now. All they need is three grand, fast. And really, a stolen convertible to take them from Michigan to Las Vegas can't hurt. A darkly funny, razor-sharp collaboration between Brittany Cavallaro and Emily Henry, Hello Girls is the unforgettable story of two girls who are filled with equal parts rage and love—and must reclaim their power if they are ever going to get away with their daring escape.
I grew up watching movies like Thelma and Louise and that's exactly what this story reminded me of, just with cell phones and young heroines. The friendship between Winona and Lucille is absolutely perfect. They are as different as two people can be, in terms of how they grew up. Winona lives in a huge house, comes from a wealthy family, and a monster of a dad. He's really, truly, the creepiest dad I've read in YA. Then there's poor Lucille, who has grown up poor, with a no-good mother and a controlling brother who runs the household - laden with drugs and devoid of any decent role models or even a semi-safe home life.
So one day, Winona snaps. And she leaves. And Lucille is there for the ride and what ensues is a chaotic, dangerous, and thrilling adventure. It's a road trip where they learn more about each other and themselves and their friendship is truly #goals because I love the relationship between these two. They are the heart of the story. One particular line really stood out to me:
It struck her then that the two of them were crouched between a church and a police station -- two places of confession -- and that, for whatever reason, they'd chosen each other instead.*
It was evident that the two authors are close in real life because the friendship between the two main characters came through so brilliantly. And by the end of the book, I just wanted Winona and Lucille to be happy for the rest of their lives - because they lived with me long after I read the last page.
So if you're looking for a character-driven story focused on female friendships, overcoming obstacles under difficult circumstances, and a story beautifully and poignantly written, you're going to want to pick this one up. As always, happy reading!
*I read the ARC so language is subject to change in its final published form.